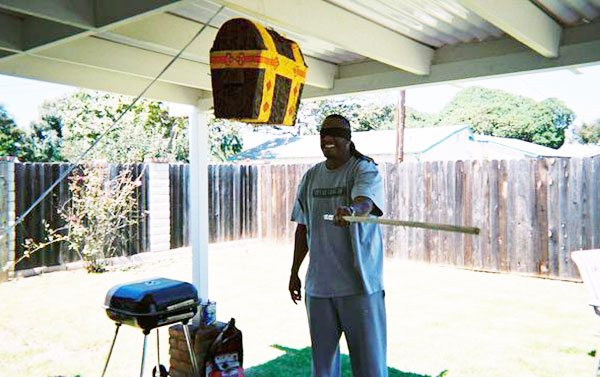 "Sometimes it lasts in love, but sometimes it hurts instead." -Adele
The photo above was taken at a surprise party for Todd Barr on September 8, 2002–his last birthday on earth. I wonder if the people in attendance that day know what a tremendous gift they gave him–just by being there to say we love you and we're glad you were born. Todd told me (many times over the following days) that day was one of the happiest of his life. It was just like him to be so appreciative of something as simple as a birthday–something he should have had dozens more of.
Todd died three weeks after this picture was taken. He was 34.
A few days ago I attended a birthday celebration for my brother who just turned 57, and as with most ceremonial events in life (weddings, births, funerals and birthdays) Todd came along with me (in spirit) to the festivities.
It was impossible not to be reminded of my deceased fiance as I watched my brother celebrate his special day, but what brought Todd to mind most powerfully for me that evening was the fact that there were so many married couples in attendance–and all of them had been together for decades–happily–according to them.
My brother and his wife went to prom together in 1974 and they remain in love after nearly 40 years. My daughter and her husband met and fell in love in high school in 1996. My sister-in-law's aunt met and married her "best friend" 19 years ago and another couple had been "matched" by my brother and his wife over 20 years ago. Of the married couples in the room, all but one (newlyweds) were in relationships that had stood the test of time, and the word "soulmate" came up in conversation over and over that night.
So, of course, I thought of Todd often, though I didn't speak of him in that context. His name did come up, not in a discussion about love and soul mates (I find that bringing a dead fiance into those discussions tends to bring the level of joy down in a room), but in a discussion about swimming in the Pacific ocean and its danger vs. safety.
One of the women there was saying she would never get on a boat or even go on a cruise because she was afraid of drowning in the ocean. The old (pre-Todd) me would have insisted she was missing out on a beautiful relationship with the sea, and that she should maybe reconsider, don a good life-vest, and partake of the beauty and majesty of the open water.
The new (post-Todd) me doesn't quite see it that way. The new me now understands and can relate to being afraid.
When I was a child, I swam and body surfed in the Pacific ocean with my brothers and sisters with absolutely no fear of any dire consequences. We would swim out to catch the "big ones" and ride the waves back to shore, sometimes rolling and tumbling in the surf when an especially powerful wave hit us. We often resurfaced tangled in seaweed, gasping for air and laughing with joy at the "fun ride" the Pacific can give.
I would never do that today. Nor would I let my children.
I told the ocean-phobic woman I thought she had good reason to fear the power of the sea, then I explained to her how my fiance Todd (a very strong swimmer) drowned in it.
She stared in my eyes for a long moment and promptly changed the subject. "You are not over him," she told me.
I know.
One thing survivors of loss know is that you don't "get over" the loss of a loved one. Ever. What you do is experience the grief, then move forward, slowly at first, until life returns to some semblance of "normalcy."
Dr. Elizabeth Kübler-Ross's grief model, commonly known as The Five Stages of Grief, lists 1) denial, 2) anger, 3) bargaining, 4) depression, and 5) acceptance (not necessarily in that order) as the stages a loss-survivor will experience over time.
I can testify to all five.
But, I would add a sixth (and possibly most potentially debilitating) stage that persists long after those five stages are traversed.
6) fear.
I don't have anything wise or witty to say about it. I can only say that I remember what it was like to be fearless, and I miss that.
Happy Birthday Todd. I miss you. I wish you didn't have to leave so soon.
(This is a cross-post from WilliamToddBarr.wordpress.com)